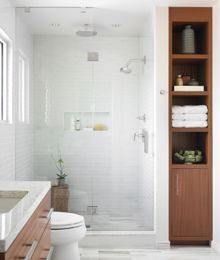 What do you think some of the
best renovations
you can do for your home this year? There are tonnes of different things you can do and it obviously varies from home to home. Most of these recommendations are for older homes that maybe are a bit dated to today's standards or just starting to show some wear.
1. Mechanical Features
- sometimes the less 'sexy' parts of the home can have the biggest impact to a potential buyer. I have been seeing many buyers walking through homes and some of their biggest concerns are things like the furnace, hot water tank, are these high efficiency, is there air conditioning, etc. If your furnace is getting older, it might be a good option at replacing it with a
high efficiency
furnace. A hot water tank is a less expensive option and a buyer will be happy that they don't have to worry about replacing these items in the next few years.
2. Kitchens and Bathrooms
- these will always be one of the most popular options for renovations. These will often give you the best return on investment (ROI).
BUT
, don't do it yourself if you are not experienced. When I am walking through a home with buyers, we can always tell if it was a DIY or a professional that completed the renovations. Even just doing painting and baseboards...make sure that it is done professionally for best results. If it is done poorly, a buyer will immediately want to reduce the price because they don't think that the work was done well. 
3. Exterior
- if your shingles are starting to curl...it is time to replace them. Again, a buyer will see that the roof needs to be replaced without a doubt. Even if you price the home with that in mind, a buyer will say, well this is going to cost me $10,000. This is something that if done and done properly, we can market that to the buyer so that they understand the roof is new and they wont have to worry about it for 25+ years.
Big plus.
4. Windows
- this is another item that buyers are looking at immediately when walking through a home. If the windows are old it will be an immediate detractor to their choice. It is an expensive item, but putting in new vinyl triple pane windows will be
super attractive
to a buyer. 
5. New Flooring
- this doesn't mean you have to put in expensive hardwood flooring throughout your home. But, if it is older hardwood that is scratched up, laminate flooring that is started to show wear or carpet that is stained and aged, it would be worth your while to replace. Consider
vinyl flooring
or a better grade of laminate flooring. The thing that is attractive about vinyl plank flooring is that it is easier to replace a piece if ever needed, water proof so that if water gets on it it won't bubble and peel like some laminate and it is very scratch resistant.
6. New Appliances
- if your appliances are getting older a buyer will again want to reduce the price to accommodate new appliances. Getting
stainless steel energy efficient
appliances will go a long way.
These are just some of the great ways you can add value you to your home. If you need any advice on what you could specifically do, send me a message or give me a call! I would love to stop by and have a look and give you my advice.
Even if you aren't thinking of selling anytime soon.
I can always recommend great contractors, what brands to stay away from and even colour schemes. 
Happy renovating! 
RE/MAX Real Estate | Associate | REALTOR
780-887-2162 | adamwilson@remax.net
4 - 16 Nelson Drive, Spruce Grove, AB T7X 3X3